The Legacy Codes
A View of the Gap
On How Asian Americans View Themselves
And How Non-Asians View Us
Written By Cherylene Lee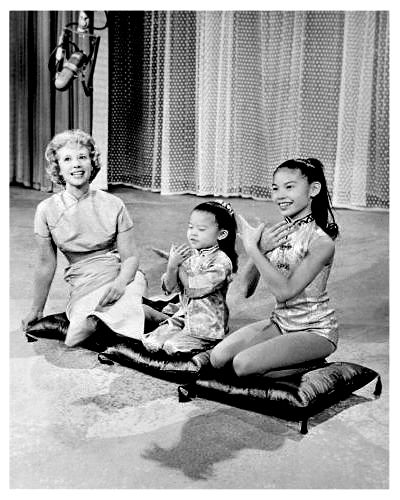 AS A 4TH GENERATION CHINESE AMERICAN who grew up in Hollywood as a child performer doing TV sitcoms, movies, and a nightclub act in Las Vegas during the 1960s, I am well aware of the gap between how Asian Americans view themselves, and how non-Asians view us. I felt that what happened to Wen Ho Lee was an example of how this gap affects the lives of all Americans and as a playwright, I write to explore that gap, expose it, to ask why it persists, and to examine ways that it can be bridged.

I KNEW

as soon as I read a newspaper article in March of 1999 describing a Chinese American scientist at a U.S. national lab as the main suspect in having given classified legacy codes of computer-simulated nuclear weapon explosions to the People's Republic of China, that I would write this play. The term "legacy codes," immediately resonated for me on so many levels that I knew this play would be about how information is passed on from one person to the next, not just in the context of suspected espionage, but how information is passed on from one generation to the next, how information and actions are misinterpreted, not only scientifically, but also politically, culturally, and personally.

Some Very Few Films
that features an
Interracial Relationships

The Asian/Asian Pacific American communities haven't been portrayed as equals very often in the media. As a result, very few major films have featured an interracial romantic relationships between Asian/Asian Pacific American males and non-Asian/White females.

Listed below are some rare examples.

In the early 1900's, isolated films such as Cecil B. DeMille's The Cheat brought to the screen the feelings of forbidden love between a White woman and an Asian man.

In the 1950's, Hiroshima Mon Amour and Crimson Kimono (in which, James Shigeta won the gorgeous White female - Victoria Shaw - from his White male co-star) featured an Asian Male and a White Female in starring romantic roles in major films!

In South Pacific, the song "You Have to be Carefully Taught" highlighted in the film one of the main reason why people fear interracial romantic situations.

In Bridge to the Sun, James Shigeta was married to the pretty Carroll Baker in a daring story during WWII!
MY PLAYS

have increasingly dealt with the personal being political. CARRY THE TIGER TO THE MOUNTAIN (East West Players, Pan Asian Rep, the Contemporary American Theater Festival) is about the murder of Vincent Chin and his mother's quest for justice. KNOCK OFF BALANCE (winner of the 2000 Rela Lossy Playwright in Residence Award, SF State) looks at family relationships between an American-born Chinese and her Chinese-born cousin during the reunification of Hong Kong with China. LOST VEGAS ACTS (2000 New America Playwrights Festival, San Jose Rep.), an original musical about three Chinese American sisters who were child performers in Vegas during the '60s, shows how personal lives are forever changed when the oldest sister in the present-day decides to run for mayor of Los Angeles.

IN WRITING THE LEGACY CODES,

the term itself became the play's central metaphor. In newspaper accounts of the Wen Ho Lee case, the classified legacy codes which caused the uproar were described as computer simulations of plutonium explosions. The term is also used by computer experts for any archaic codes which are still necessary to run complex computer programs. For me the term can also be interpreted as the DNA genetic code, it can be interpreted as what is passed on in families regarding culture, family secrets, genetic traits. It also can relate to how people and institutions want to be remembered in the future. In the play, THE LEGACY CODES, I chose to create fictional characters to extend the metaphor, but I also chose to utilize true incidents--such as the fact that Wen Ho Lee's wife, Sylvia Lee, had been asked by the CIA to be a liaison between Chinese and American scientists.

IN DOING THE RESEARCH

for the play, I spoke with Asian and non-Asian scientists at the Lawrence Livermore Lab in the Bay Area, contacted the lawyers who are representing Asian American scientists in a work discrimination suit, attended rallies where Alberta Lee spoke eloquently in her father's defense, and also spoke with activist Helen Zia, who had helped me in writing my play CARRY THE TIGER TO THE MOUNTAIN on the Vincent Chin murder and who is currently writing a book on Wen Ho Lee.

WHAT BECAME EVIDENT TO ME

through my writing and research, was that what is considered bad science is also bad in human relations. If a scientist strongly expects to find a particular answer to a question, then that answer will inevitably be found during the interpretation of the evidence. The same flaw pertains to the stereotyping of Asian Americans. If we are not expected to be "real Americans," then regardless of any evidence to the contrary, we are not considered American. Theater is a simulation of real life, and for me, live performance is the best way to invite people to see through someone else's eyes, to show cultural parallels and contrasts, and to find emotional common ground for Asian and non-Asian audiences. Asian Americans are not the "other," we are of the very fabric of American life.

Background Info
On Why the Play
Was Selected

The Hangar Theater generally produce plays which are well-known (already produced) to their audiences.

THE LEGACY CODES will be the theatre's first ever new mainstage play.

It was selected by Kevin Moriarity (artistic director) because of its topicality, its interweaving of science, social, political and familial issues.
KEVIN MORIARTY,

artistic director of the Hangar Theatre in Ithaca, NY asked to produce the play after I had a reading of THE LEGACY CODES at New Dramatists in NYC in Oct. of 2000, just after Wen Ho Lee had been released from prison and the case against him collapsed. The play had been commissioned by the Magic Theatre in San Francisco and was awarded a Gerbode Foundation grant. Following a staged reading in San Francisco at the Magic in Feb. 2001 and after working out the performance rights, I agreed to have the Hangar produce the play as part of its New Play Festival. THE LEGACY CODES will be the Hangar Theatre's first new play on its 349-seat mainstage and will be the centerpiece of its New Play Festival which will include new works-in-progress by local playwrights, emerging playwrights, and students.
THE LEGACY CODES will be directed by Ron Nakahara who has directed two of my previous plays, ARTHUR AND LEILA and CARRY THE TIGER TO THE MOUNTAIN at the Pan Asian Repertory Theater off-Broadway, and THE LEGACY CODES' cast will include veteran NY Asian American actors: Les Mau, Wai Ching Ho, and Tom Lee.

THE LEGACY CODES

will be seen from July 11th-July 21st (2001) at the Hangar Theatre in Ithaca, NY. Ticket info, times of performance, and reservations can be made over the phone at (800) 284-8422, or (607) 273-4497.

Online info is at: www.hangartheatre.org, and email at: info@hangartheatre.org. The theatre is located two miles from downtown Ithaca on Route 89 North, in Cass Park, the Treman Marina Entrance.






Any questions regarding the content, contact Asian American Artistry
site design by Asian American Artistry
Copyright © 1996-2001 - Asian American Artistry - All Rights Reserved.